How to Apply for India Visa from the USA, UK, and Australia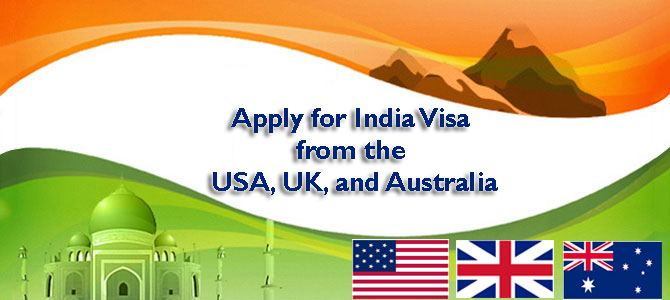 India is a vibrant and culturally rich country with a blend of diverse traditions that make it a perfect destination for travelers. That is why a million citizens from the USA, UK, and Australia visited India in 2019. In this blog, you will get to know about how to apply for India Visa from the USA, UK, and Australia.
Getting an Indian tourist visa is quite easy, and 100 % hassle-free. Almost all countries need a Visa to visit India, and citizens from the USA, UK, and Australia aren't the exception. People can apply online for an Indian Visa if they are planning to visit here.
A valid Passport Holder from the USA, UK, or Australia needs to know some points that will assist him/her to know all the rules and regulations along with the requirement to apply for a tourist visa.
What type of Visa is there for Australian, USA, and UK citizens wishing to go to India? 
Three types of visas are there for which you can apply. These are –
Tourist eVisa
Medical eVisa
Business eVisa 
What do you need to apply for India Visa? 
We require the following to submit your application:
Applicant Photo
Passport Personal Details Scan
Last Page of Passport (if applicable)
A photo is also an essential requirement when you apply for an eVisa for India. You need to upload a digital color photograph as a vital element of the application process.
The picture must meet the given requirements:
The photo must be square in shape with equal height and weight
The front-facing photo is required with a full face and eyes open.
The color saturation of the picture must be correct.
The background of the photo needs to be plain light-colored, single-colored, or white background.
No border is required in the photo. 
What is an Indian Tourist eVisa? 
EVisa which is required for tourists from different countries is an official certification document. It allows entry into India and travels within and is linked to your passport for authenticity. How to apply for Indian Visa from the UK, USA, and Australia is no more a tough task with us (provide the link here). Unfortunately, but you need to know this, India doesn't provide a tourist visa on arrival. It is highly recommended to apply for a visa before your trip. You can apply online with us and obtain your very without any hassle. A citizen from the USA, The UK, or Australia who arrive without a valid visa won't be allowed India to enter. Any traveler to these countries can stay for 180 days (i.e., for six months). The eVisa for India is valid for one year and allows multiple visits.

How to apply for Indian Visa from Australia, The UK, and the USA?
It would be best if you had a few things ready while applying for an eVisa. You must have a valid passport, a colored recent photograph, and the last filled page of the passport.
The online form is divided into 3 simple steps, and if you need help, our excellent support service will be available for you 24×7. We will guide you through the process and make it hassle-free. With us –
You will complete the online application form in a few minutes.
Complete your form and provide all the details correctly.
Upload all your required documents carefully for the verification process.
Our experts will guide you throughout the process of How to apply for an Indian Visa from Australia, the UK, and the USA. Once we get the filled application from your side, we will check & verify and process your India eVisa.